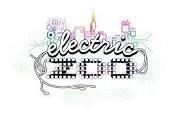 Electric Zoo is an electronic music festival which takes place annually at Randall's Island Park, New York, USA.
Location
New York City, New York, United States
The next Electric Zoo will be happening sometime in the future.
Quick Info

Anual Labour Day Weekend

Ages: From 18
Connect with Electric Zoo
Contact
---
This festival's page is updated and maintained by volunteers and moderators. This festival has not been claimed yet. Please
contact us
to update any out of date information.
If you are associated with this festival then you may
claim this entry
and keep the data up to date.
Quick Search
Members
About Electric Zoo
Words From The Festival
"Established in 2009 by Made Event, the internationally renowned Electric Zoo Festival is one of New York Citys largest music festivals and features the top names in electronic music, bringing a wide variety of acts from around the world and across the spectrum of electronic musics various sub-genres. International editions of Electric Zoo have taken place in Mexico City, Tokyo, Shanghai and So Paulo.
All those moons ago, whoda thought that the weekender that roared to life on NYCs Randalls Island in 2009 which featured a fresh faced deadmau5, a pre-cake Aoki and the late-great Frankie Knuckleswould become a household name in the global dance festival scene?
Weve come a long, long way together, through the hard times and the good. From our earliest expeditions through the chaotic urban jungle, to scaling the feral lands of the Wild Island, and getting our minds blown by the gritty 6th Boro. What a ride its been!
Since our first outing in 2009, weve been welcome all across the globe, taking our brand to Shanghai, Tokyo, Sao Paulo, and Mexico City.
But New York City, baby, youll always be our home.
From your great gleaming skyscrapers to your filthy-a** subway. The neon lights of Time Square to the fading memories of Coney Island. From the famous fuggedaboutit wiseguys to the lifelong friendships forged on dance floors. New York, you are the Big Apple in our eye, and our constant source of inspiration. Its been an honor to make you dance."
Rate Electric Zoo