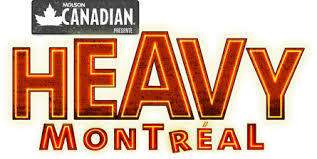 Heavy Montreal is a summer, heavy metal and rock music festival. A favorite among the rock ad alternative fans. Heavy Montreal also puts on single events throughout the year.
Location
Montreal, Quebec, Canada
The next Heavy Montreal will be happening sometime in the future.
Quick Info

Typical Attendance: 300000
Summer festival

Ages: From 0 To 100
Connect with Heavy Montreal
Contact
---
---
This festival's page is updated and maintained by volunteers and moderators. This festival has not been claimed yet. Please
contact us
to update any out of date information.
If you are associated with this festival then you may
claim this entry
and keep the data up to date.
Quick Search
About Heavy Montreal
Words form the festival
"HEAVY MONTRAL is the premiere North American destination for fans of rock and metal. Since the first edition in 2008, the festival has welcomed close to 300,000 fans who have congregated to see the likes of groups such as Metallica, Iron Maiden, Megadeth, Slayer, The Offspring, Marilyn Manson, Mtley Cre, Disturbed, Slipknot, Anthrax, System of a Down, Mastodon, Kiss, Alice Cooper, Avenged Sevenfold, Rob Zombie, Korn, and many more.
HEAVY MONTRAL is run by the same team who have been growing the festival since the first edition in 2008, when it was known as Heavy MTL. We pursue the mission of providing an unparalleled festival experience to our fans by producing HEAVY at an ideal site just minutes from downtown Montreal; booking world-class artists from home and abroad; using only cutting-edge sound, lights, and staging; providing our fans with delicious and diverse food and drink choices; and paying attention to every minute detail to ensure all fans have the best and most comfortable festival experience possible."
Rate Heavy Montreal