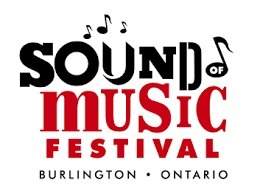 Sound of Music Festival has been voted one of the top 100 festivals in Ontario by FEO (Festivals & Events Ontario), for its 14th year in row. Taking place annually in Burlington, Ontario, Canada. This is an all ages event with so much to do for the whole family. Workshops, marketplace, food and beverage tents, carnival rides and amazing music from both local Canadian and out of town artists.
Location
Burlington, Ontario, Canada
The next Sound of Music Festival will be happening sometime in the future.
Quick Info

Typical Attendance: 200000
Summer Festival


Connect with Sound of Music Festival
Contact
Mailing Address
PO Box 85007 561 Brant Street Burlington ON L7R 4K3
---
---
1-905-333-6364 - Phone Number
---
---
This festival's page is updated and maintained by volunteers and moderators. This festival has not been claimed yet. Please
contact us
to update any out of date information.
If you are associated with this festival then you may
claim this entry
and keep the data up to date.
Quick Search
About Sound of Music Festival
Sound of Music has exploded in size since it's modest beginnings in 1980 as a marching band parade. Every year in June, due to the passion, love and commitment of hundreds of volunteers, a small staff, and a roster of generous sponsors and suppliers music takes over Burlington Downtown and Waterfront.

As the region's largest music event we support an eclectic combination of new and emerging artists, blasts from the past and some of today's most popular performers.

Music can be heard throughout our downtown for nine days straight.

From our ticketed Kick-off Concert, to our Sound of Music Club Series that brings local talent to the spotlight one show at a time, and of course our Grande Festival Parade, an ongoing tradition since 1980, there's no shortage of entertainment on every corner. The Downtown Streetfest, Children's Village, carnival, vendors and FREE concerts on Father's Day Weekend never cease draws crowds of all ages, from near and far.

Sound of Music Festival is a part of Burlington.

The Festival brings people together and creates memories and traditions that last a lifetime. Ask anyone in town and they're likely to have a Sound of Music story. The Festival remains an annual event, run as a not-for-profit corporation, in partnership but apart from the City of Burlington. Sound of Music is the city's biggest event of the year, generating 11.7 million in economic activity and playing host to well over 200,000 visitors.
Rate Sound of Music Festival