Frendly Gathering
This is the general information page for Frendly Gathering. For specific events/years follow the links below.
Past Festivals:
Frendly Gathering 2018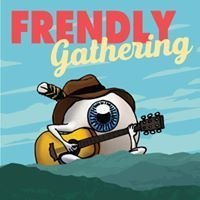 Frendly Gathering is three day outdoor music festival which takes place in Waitsfeild, Vermont, USA. This family friendly event is more than just about music. Camping, workshops, find art shows and more. Typically an indie, folk, bluegrass and soul music event.
Location
Waitsfield, Vermont, United States
The next Frendly Gathering will be happening sometime in the future.
Quick Info

Annual Summer festival

Ages: From 0 To 100
Connect with Frendly Gathering
Contact
---
---
This festival's page is updated and maintained by volunteers and moderators. This festival has not been claimed yet. Please
contact us
to update any out of date information.
If you are associated with this festival then you may
claim this entry
and keep the data up to date.
Quick Search
About Frendly Gathering
Words from the Festival
"FRENDY MANIFESTO
The Frendly Gathering originated as a way to bring Frends from all over the world to one place to share a deep love for music, snowboarding and the outdoors. Historically we used our sport and collective ethos to unite a diverse group of athletes. Within just a few years it became clear that this Frendly movement was meant to transform the lives of people around the world.What started as a 250 person mini-gathering put on byThe Frends Crew, has now evolved into a three-day grassroots music festival and a dream come true for us.
At The Frendly Gathering, we want our guests to leave the real world behind, enjoy the fruits of nature, listen to music and enjoy the company of Frends, new and old.
We believe in cultivating lasting frendships that in turn foster collaborative success and stand to rid future generations of exclusivity.
We want to help create a We generation that is selfless enough to overcome the Me mentality.
We strive to create a lasting environment that is built upon kindness, generosity, and respect.
10 ANCHORS OF FRENDSHIP
When we began building the Frendly Gathering we wanted to create an experience that reflected our world and all of the adventures that we encountered on the road while snowboarding. What we realized is that while the places we visited and the people we met were always changing, the one thing that was consistent was the way we showed up for each other as Frends. Whether it was at the top of the half pipe or on the podium, what made it special was who we were sharing those experiences with. From this, we decided that 10 core values that united us as Frends, should also guide the experience at our festival. We hope that you'll take time to reflect on how these anchors show up in your relationships and to use them not only while you're visiting us at the festival, but also to take them into your daily life and endeavors."
Rate Frendly Gathering