COVID-19 / CoronaVirus Update

Please note that due to the COVID-19 pandemic, many events around the world are being cancelled or postponed. Please be sure to visit the official website of any event you are planning to attend to ensure that is has not been canceled.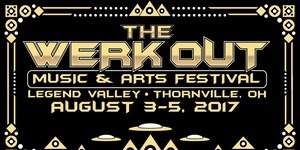 The Werk Out is an annual summer music and arts festival. This all ages camping event has something for everyone. Rock, Alternative, Hip Hop, Electronic and Indie can be heard on multiple stages. The Werk Out takes place in Thornville, Ohio, USA.
Quick Info
Thornville, Ohio, United States
Thornville, Ohio, United States
Aug 03, 2017
to
Aug 05, 2017
- Festival is over!
Annual Summer Festival
Quick Search