Joshua Tree Festival Fall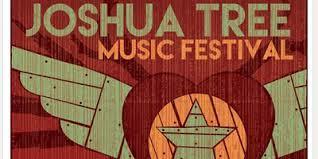 Joshua Tree Festival is an annual music and arts festival. There is a summer and fall time event. A multi-genre festival with artists performing hip hip, alternative, indie, electronic and more. The festival takes place in Acton, California, USA.
Location
Joshua Tree, California, United States
The next Joshua Tree Festival Fall will be happening sometime in the future.
Quick Info

Annual October Festival

Ages: From 0 To 100
Connect with Joshua Tree Festival Fall
Contact
---
---
This festival's page is updated and maintained by volunteers and moderators. This festival has not been claimed yet. Please
contact us
to update any out of date information.
If you are associated with this festival then you may
claim this entry
and keep the data up to date.
Quick Search
About Joshua Tree Festival Fall
The Desert is Freedom, Music is Power, & Community is Crucial. Founded in 2003, the bi-annual (May & Oct) Joshua Tree Music Festival is held at the gateway to the world-renowned National Park. JTMF is a resource-generating powerhouse of passionate creativity, community empowerment, and arts education for all ages. A family inclusive global music experience in the magical Mojave. Committed to radical inclusion, these three day (and four night) funky desert-style festivals create experiences where passion, purpose, family, and friends come together, and the boundary between performer and patron is blurred. The music is diverse and eclectic, from dance-world-electro-funk'n groove to soulful global-ethno melodies. JTMF promotes personal growth through a variety of multidisciplinary workshops, such as yoga and movement, visual arts, music, and myth. A robust schedule of Kidsville activities makes JTMF one of the top family-friendly festivals in the country. Magnificent art installations and a world market further inspire, intrigue, and invite festival goers. Our mission is to foster social interaction on a deep level, creating positive life-changing moments. The People JTMF is produced by a family of friends and funsters working together with the conviction that music is the soul of life, and that art enriches and saves lives. By creating a small, inspired community for a weekend, festival goers enjoy rich and profound positive interactions with other attendees, leaving recharged (not depleted). The experience is enhanced when embraced in the great outdoors amongst fellow music lovers. More than two hundred volunteers and three dozen team leaders work tirelessly and passionately to create this unique & magical environment. Who Goes? The festivals are family friendly events, creating an all ages audience. The eclectic line-ups draw a diverse crowd of discerning live music fans who love the outdoors. The National Park is one of the premier rock climbing destinations in the world (2 million visitors per annum); people come to climb and dance. Fully half of the folks are from Southern California, yet 25% come from out of state. This is a desirable festival destination. Many come for the festival and stay for a vacation of camping and adventure in the park. To be sure, the festival is an EXPERIENCE, where groups of families and friends come once or twice a year to truly commune, revel and bond. The Music The line up features talented artists who are not household names. Most likely you won't hear these artists on the radio, or see them at other major festivals. We showcase up & coming, white hot, have-to-see-them-now-before-they-get-big type of roster, with artists that are still hungry, honing their craft, and creating unique, original sounds. Artists who have performed at JTMF, then gone on to successful music careers include Edward Sharpe & the Magnetic Zeros, Elle King, the Avett Brothers, Brett Dennen, John Butler Trio, Trombone Shorty, Deer Tick, Trampled by Turtles, Chicano Batman, Railroad Earth, Orgone, Valerie June, Greensky Bluegrass and more. Sprinkle in a few Grammy Award winners and nominees (La Santa Cecilia, Dave Alvin, Kinky, Fareed Haque, Nortec Collective, John Butler) some Rock & Roll Hall of Famers (Bernie Worrell, Dick Dale, Eric Burdon, Robbie Krieger), and some World Music luminaries (Dakhabrakha, Khaira Arby, Gaudi, Wunmi, Sierra Leone's Refugee All Stars, Vieux Farka Toure, John Butler Trio, Nortec Collective, Kinky, and Kraak & Smaak) for good measure. Now add New Orleans Funk & Rollers (Ivan Nevilles' Dumpstaphunk, Porter Batiste Stoltz, Trombone Shorty, Henry Butler, Papa Mali, Rhythm Council, Zydepunks, Bonerama), Jam-Tronic Innovators & Heavyweights (The Slip, Ghostland Observatory, JJ Grey, the New Deal, Garaj Mahal, Heavyweight Dub Champion, Zilla, Toubab Krewe, Railroad Earth, Lotus, Particle), and Electronic Sonic Mavens (Floozies, Dynohunter, Gaudi, Nickodemus, Marques Wyatt, Adam Freeland, Mark Farina, Stanton Warriors, and Ursula 1000) to realize the diversity our rosters. The Location The Joshua Tree Lake Campground (Joshua Tree, CA) is home to JTMF. Nestled against the Copper Mountains, bordering BLM land, with sweeping views of the otherworldly National Park, this 40 acre, privately owned venue is an ideal locale for this intimate festival. This site features plenty of space in the campground, hot showers & RV hook-ups, and camping is a short stroll from the lake area and music bowl. Two stages, a world market, and organic food purveyors complete the circle that is the music bowl. Live music alternates continuously on two stages in one area so you don't miss a beat. More than 35,000 square feet of shade cloth flies over head for comfort. The one acre oval lake area is surrounded by amazing Visual Art installations, Kidsville, Playshops, the shaded Yoga & Healing Stage, shady nooks, and funky vignettes. Situated in the town of Joshua Tree, which is located in the high desert of the magical Mojave, it is 50 minutes from Palm Springs, 2.5 hours from LA, 3 from San Diego, 3.5 from Vegas, and 5 from Phoenix. In the Beginning JTMF founder and organizer, Barnett English, has traveled to, attended and worked at over 650 camp-out music festivals since 1993 with his organic espresso caf, JavaGogo. On a whim, JavaGogo came to the Joshua Tree Lake Campground in October 2002 to serve up fresh bevvies at the JT Didgeridoo Festival. Barnett recounts, I drove in at night, then awoke to the magical sweeping views of the National Park and the Copper Mountains. Upon meeting our gracious hosts (Sally & Ken Jayes, JT Lake Campground owners), I told them itd be a great site for a music festival ! Sally said, If its such a great idea, then you should go for it. The seed was planted. Joshua Tree was obviously a beautiful place, but what about the people ? That week a stranger invited us to his birthday party. Two hundred inspired folks dancing around a bon fire. The town was/is populated with outdoorsy, creative DIY artists and radically unique individuals. That sealed the deal. Within 6 months Joshua Tree was my home, and the inaugural JTMF took place on April 11-13, 2003.
Rate Joshua Tree Festival Fall